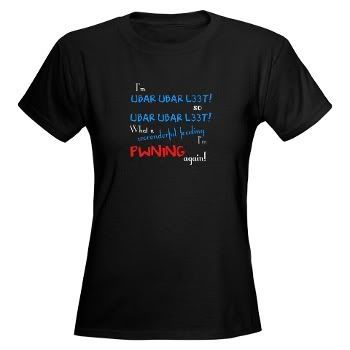 I think i nearly orgasmed when i saw this! I had to have it, it's just so..beautiful! Those lyrics have sentimental meaning to me and my band of warcraftards. They are they sole reason I have a few friends....and now I'm gonna wear it on my tits!
ROTFLMAO is one of the biggest warcraft in-jokes . If your not a player you won't get it.
Nothing to report on life atm, it revolves around warcraft & the attainment of lvl 80..3lvls too go!
Current Location:

Zun'Drak

Current Mood:

ecstatic

Current Music:

ROTFLMAO by Oxhorn